We're just a little more than two weeks away from the rumored release/announcement of the new version of the iPhone.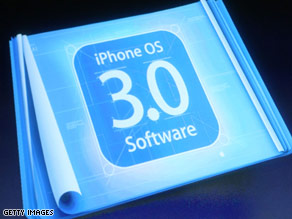 It's expected that the Apple will release the 3.0 software at the World Wide Developers Conference on June 8th (no Jobs, but Phil Schiller will be doing the keynote). Having a few friends and colleagues who have started developing for the iPhone - I've actually got to play with the beta a bit. I must say, as nice as cut and paste is, the search is my favorite new feature. Being able to search through emails, contacts and anything else on my phone is way nice (and one of the main features I missed when I first got the phone last year).
The real question is - will new hardware be announced at the same time? Some of the big rumors surrounding video recording (that it will only work on new hardware) point to it coming soon - and has sparked a flurry of rumors to go with it.
Some say you will be able to edit video on the phone. If this comes true, I suspect it will be more about trimming to make the video shorter than making it theater-worthy.
There's also a host of rumors surrounding Apple developing custom innards for the phone – custom processor, OLED screen, a specially designed battery – although those seem more likely for a further away iteration than anything we're likely to see this year.
I'm hoping for increased capacity (really a no brainer, but how big will it be? ... 80GB iPhone please?) and a better camera. Three megapixels would be acceptable, 4 would be grand and 5 would actually be worth using.
What do you think Apple should provide with a hardware update to the phone? And which of these rumors sound too good to be true? OHH and just to bait the water a little – what are the chances Apple will finally come through with the long rumored netbook/tablet?
Posted by: Cody McCloy
Filed under: Apple • iPhone • online video • technology