The crew of the International Space Station (ISS) tasted their own urine Wednesday - and NASA didn't even have to double-dog dare them.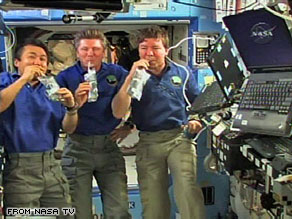 Astronauts celebrated by "clinking" their drinking bags together in a traditional cheers before sipping water composed of recycled urine, sweat and atmospheric moisture. The cheers marked the initiation of a closed loop water recycling system aboard the ISS.
NASA claims each crew member creates about a gallon of water from urine every six hours, but the source water doesn't just come from the space station's human occupants. "Lab animals on the ISS breathe and urinate, too, and we plan to reclaim their waste products along with the crew's. A full complement of 72 rats would equal about one human in terms of water reclamation," Layne Carter, a water-processing specialist with NASA, said in a statement released by the space agency.
On NASA TV, Flight Engineer Mike Barrett confirmed "the taste is great," as another astronaut swam through the air catching floating bubbles of the recycled water. "This has been the stuff of science fiction," Barrett said on the program. "Everybody's talked about recycling water in a closed loop system, but nobody's ever done it before. Here we are today with the first round of recycled water."
Tom's Hardware is less enthusiastic about drinking the potent potable:
While it might sound completely gross to us, the water is probably cleaner than what we drink on earth. That being said, I'd rather take my chances with Earth water than drink the purified urine of a rat. Really.
Similar water purification technology was employed after the Asian tsunami in 2004, but with large scale use there is typically a much larger gap between urine and tap.
Would you be willing to drink reclaimed urine, or are you sticking to bottled water while Evian is available?
Posted by: Wes Finley-Price -- CNN.com Webmaster
Filed under: NASA • Space