Palm's newest entry into the smart phone battle, the Palm Pre, is scheduled to be released on June 6, just two days before the expected release of the iPhone's 3.0 software.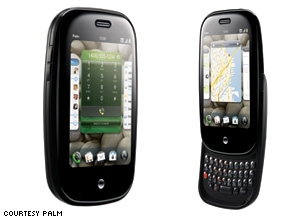 The Pre was first announced at the Consumer Electronics Show in January. It kind of stole the show - something I didn't expect at all. Before converting to the iPhone last July, I was a firmly entrenched Palm Treo user (and NOT the Windows version, either). Palm had been bought and sold too many times to count, the current operating system was long overdue for an overhaul. Quite frankly, I was over it.
Then came the Pre - and wow - could this really be an iPhone contender? It was to have all the things the iPhone was missing: a real keyboard - one that slides out from behind the phone - as well as cut and paste functions, multi-media messaging (MMS), global search, applications that run in the background and live notifications. Of course, Apple announced the 3.0 software, which is expected to bring the iPhone up to par on those features.
I haven't been able to get my grubby little hands on a Pre, but it does look cool. The so-called WebOS looks to be innovative - perhaps as innovative as the iPhones - and is designed to be used with only one hand.
And don't get me started on the optional inductive charger, which means you can put the phone right on top of the charger without connecting a cord (think Sonicare). Can the rest of the world please adopt and standardize this technology?
But will I buy one? Not unless someone else is footing the bill. I'm addicted to the iPhone for now and I just can't see giving it up.
What about you? iPhone vs. Palm Pre: which do you see coming out on top, or is there room for both on the stage? I can see the Pre garnering lots of support from the people who don't like the iPhone for one reason or another, or who prefer Sprint over AT&T. But can it compete with the momentum the iPhone has?
Posted by: Cody McCloy -- CNN.com Sr. Associate Producer
Filed under: iPhone • Palm Pre • smartphones