Apple appears to be planning a major upgrade to its online capabilities. Reports indicate the company is shopping around for a location to build a $1 billion server farm. This cluster of networked computers would power Apple's future Web operations.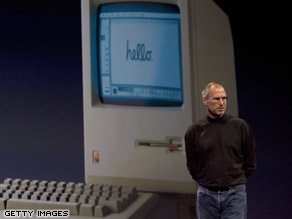 Apple CEO Steve Jobs delivers his keynote speech at Macworld on January 9, 2007 in San Francisco.
The iTunes and the iPhone app store are certainly growing, but this massive project suggests Apple may have something new up its sleeve - or is the $1 billion price tag expected given the Apple gear that will likely be used?
Data Center Knowledge writes:
The size of the project raises interesting questions about Apple's ambitions for its online operations. The $1 billion price tag is nearly twice the $500 to $600 million that Microsoft and Google typically invest in the enormous data centers that power their cloud computing platforms.
While the location of the data center is not yet decided, the Associated Press reports North Carolina lawmakers are salivating at the prospect of of bringing a billion dollars to their state. Legislators have proposed tax breaks for Apple that could amount to $46 million in the next decade, assuming the company reaches its $1 billion investment target within nine years:
Though the Apple site is initially expected to employ fewer than 100 full-time workers, legislators said the potential prize was so juicy it justified changing the state's corporate tax formula to benefit a single company.
Is Apple hoping to compete with Google's online cloud-computing capabilities or is a new video service like Hulu in the works? How do you think Apple will use its new online muscle?
Posted by: Wes Finley-Price -- CNN.com Webmaster
Filed under: Apple • computers • Google • Hulu • Internet