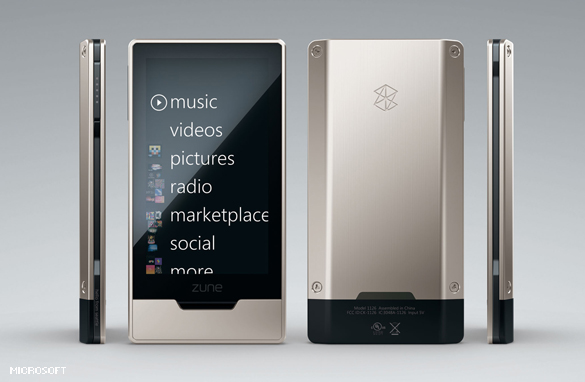 Microsoft Corp. on Tuesday announced it will release a new portable media player this fall. The Zune HD, with its rectangular design and touch-screen navigation, looks as if it is designed to compete with Apple's high-end iPod Touch, which is pretty much like an iPhone without the phone.
Among the Zune's new features is the fact that it can play HD radio over a Wi-Fi Internet connection. That sets it apart from some other media players, but, as San Francisco Chronicle blogger Ryan Kim writes, new features alone won't help any of Apple's competitors to take down the iPod Touch. The real power of the Zune HD may be in its ability to link up with Microsoft's gaming service, Xbox Live.
As we know, a list of features alone can't unseat Apple. Ask SanDisk and others. But if Microsoft can really integrate the Zune HD with Xbox Live and extend its media offerings across a number of devices, it'll have a compelling story for people who may be interested in having a cross-platform approach for entertainment. Tune in next week for more info.
CNET says Microsoft may have more details about how Zune HD will work with Xbox next week at E3, a major gaming and entertainment conference in California:
The software maker also said that at next week's E3 trade show in Los Angeles it will announce details on a new Zune-branded video service for the Xbox that will replace the current Xbox Live marketplace for TV and movies. The company didn't announce details or specifically say that content will be playable on both Zunes and the Xbox.
As a newbie to the gadget world, here's my question: Why not link up the Zune HD with a phone? Or, put in Apple terms, why would you buy an iPod Touch when you can get the essentially the same device, with a phone, in the iPhone?
It seems that more gadgets are breeding and folding into each other. Video games are moving onto phones, as Wired reports. Phones are being used in South Korea to let people access public transit, check into their school classrooms and pay bills, accoridng to the New York Times. What's the advantage of having a separate media player?
That's meant to be a genuine question, not a snarky remark. I'd like to hear what you all think in the comments. Are you excited about the Zune HD? What do you think will come of Microsoft's announcements next week?
Posted by: John D. Sutter -- CNN.com writer/producer
Filed under: Apple • iPod • media players • Microsoft Corp.