Google today announced some upgrades to its Web browser, Chrome, which originally was released about 8 months ago.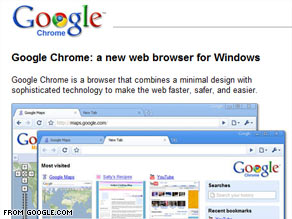 You could argue the search-engine powerhouse takes the car metaphors a little bit far with this post about the update: Google says the upgrades mostly focus on speed, which comes from a new browser "engine," which Google calls "V8."
For those interested the under-the-hood mechanics of Chrome, Google says the browser tops others because it is able to handle complex Web pages with lots of Java Script very quickly. From another post to the Chrome blog:
Web applications are becoming more complex. With the increased complexity comes more JavaScript code and more objects. An increased number of objects puts additional stress on the memory management system of the JavaScript engine, which has to scale to deal efficiently with object allocation and reclamation. If engines do not scale to handle large object heaps, performance will suffer when running large web applications.
I installed the Chrome update (you can download the new version here) this afternoon, and it definitely is speedy - noticeably faster than Firefox, which I often use. On the downside, the new version still doesn't seem to automatically spellcheck as you write. I'm using Chrome now, so please forgive any typos.
I thought this point from TechCrunch was useful, too: if you use Gmail, Google Reader, etc., Chrome seems extra-fast:
JavaScript-heavy webpages (such as Gmail), will now run 30% faster on Chrome, according to Google. Given how fast they were already running, that's fairly insane.
What do you all think? Is this browser worth using? There's always that ol' anti-trust issue floating around, and some have questioned why Google would get in the browser and mobile phone businesses when they don't seem likely to be profitable. Is it scary for Google to creep into yet another facet of our online lives, or is this just expected at this point?
And, while we're on the subject of browsers, do any of you use the Firefox add-on that lets you skip Web ads? Slate raises an interesting point: is it ethical for a writer who makes money from an ad-driven Web site to block Internet ads with his or her browser? I tried out the ad blocker, and it's kind of shocking. All of the news Web sites look like ghost towns without ads blinking and yelling for your attention. But I think that's something I could get used to.
Posted by: John D. Sutter -- CNN.com writer/producer
Filed under: Google • Google Chrome