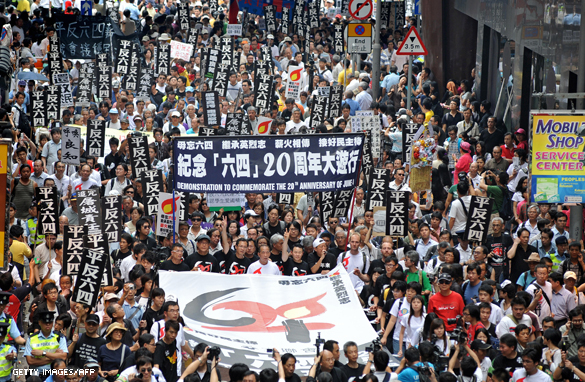 China has blocked access to some Web sites, including Twitter, the micro-blogging site, Hotmail's e-mail service and the photo-sharing site Flickr, ahead of the 20th anniversary of the bloody Tiananmen Square protests, according to news reports.
Pro-democracy protestors met Chinese military tanks in Beijing's Tiananmen Square on June 4, 1989. The exact death toll of the crackdown was never released by the Chinese government.
The photo above shows a 20-year-anniversary remembrance of the massacre in Hong Kong this week.
Reuters says some Internet users in China are outraged by the apparent crackdown on online information:
Indignant users filled chatrooms with protest, after access to Twitter was denied shortly after 5:00 pm (0900 GMT) on Tuesday. "The whole Twitter community in China has been exploding with it," said Beijing-based technology commentator Kaiser Kuo. "It's just part of life here. If anything surprises me, it's that it took them so long."
The BBC writes that China "wants to make sure that there is no mention of the [Tiananmen Square] subject whatsoever." The Guardian says most Chinese Internet users rely on local state-monitored sites, so Twitter and other Western-developed social networks pose a threat. More on that point:
While most Chinese internet users rely on domestic services which are heavily monitored and controlled, Twitter had become hugely popular among an urban elite. They used the site to share information on sensitive issues in recent months, such as the fire at the Chinese state television complex in February. Some had also referred to the coming anniversary.

While people could not access twitter.com this evening, some users were still able to tweet – sending their complaints about the ban.
Meanwhile, Amnesty International on Tuesday called for inquiries into the military crackdown on the protestors 20 years ago. From a news release from the human-rights advocacy group:
The Chinese government has thwarted any attempts to shed light on the military crackdown that resulted in hundreds of deaths and injuries in June 1989. Between 20 and 200 people are still in detention for their involvement in the 1989 pro-democracy protests, according to several non-governmental organisations. The Chinese government has not made official figures public and has even intensified its current repression of activists and lawyers in the lead up to the anniversary.
Follow the conversation about China's Web-site bans on Twitter by seaching for "China Blocks Twitter."
And read more about China and its Internet policies in a CNN special report.
Posted by: John D. Sutter -- CNN.com writer/producer
Filed under: China • Internet • Twitter