One way to learn what people are buzzing about at the Electronic Entertainment Expo is to sit in the media room, sneak webcam glances at private chats and use non-elf ears to eavesdrop on conversations. It's easier than walking around the huge show floor and saves a lot of shoe leather.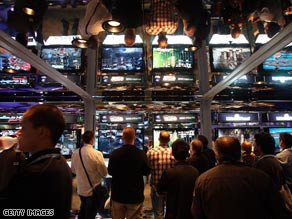 Whether you pick up important tidbits on how to cross a mystical river by using a beaver to cut down a tree or the fact that "Splinter Cell" might be the surprise of the video-gaming show, the media room provides a nice little slice of E3 life. Bloggers, writers and various members of trade magazines spend their afternoons swapping level-up tricks, X O B finger combos and tips on which booths provide the best free stuff.
Microsoft's Project Natal was still resonating through the room long after its Monday demo, with media folks bragging about getting the chance to wave their way in front of the 'mo-cap' (motion capture) hardware. It's also amazing how a free T-shirt or a cool pen can get journalists' attention.
A few trends broke through the sensory overload of E3, which filled the Los Angeles Convention Center with hordes of trade members navigating large exhibit halls to see the latest and greatest games coming in the months ahead.
One is the sheer diversity of the games out there. Not every game involves death and destruction - you can flip burgers, farm in "Harvest Moon," race cars in "Blur," crush a 300-yard drive, rock out to "I Wanna Hold Your Hand" or guide Mario through new adventures.
Sure, there's still plenty of gore and guns to keep the hard core enthusiasts interested: "Assassins Creed 2," "God of War III" and even "Uncharted 2" provide plenty of killing. But don't underestimate the growth of family-themed games in the not-too-distant future.
Posted by: Dan Wright - Senior Producer CNN.com LIVE
Filed under: video games