It's a mix between reality TV, Web cam mania and every sports fan's dream world. The "Fanarchy" Web site launched today, beginning an interesting series that will premiere on the Versus network on June 7.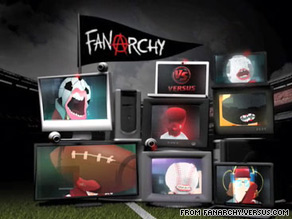 Remember ESPN's "Dream Job" reality series? The runner-up, Zach Selwyn (who didn't get the job as a "SportsCenter" anchor) will be hosting the new show, which will feature seven hardcore fans on their Web cams debating the sports topics of the day.
At the end of each episode, two are eliminated by the host. The remaining five will return and two more new Web fans will be selected to join them. You're invited to load your own Web cam video onto the site with an opinion on the debate. Fans vote to elevate your video on the site to stardom - then you could be discovered by the producers and put on the show.
From what I can tell, the producers will select those of us who spend an awful lot of time yelling at our TV screens in hopes that the idiot umpire will actually hear the, um, unusual names we're sending his way. But I'm even more interested in what this could mean for TV/Web integration.
Although many television shows have incorporated the Internet via Web cams, Twitter, etc. before, very few have successfully created a show revolving around audience participation via the Internet.
WIRED.com says that Jimmy Fallon is the first mainstream chat personality to cater to the online generation. Through technology-related guests, jokes and producers (he poached Gavin Purcell, the executive producer for G4's "Attack of the Show!") he's become Fallon 2.2 million.
Despite a few early audience-wide fails, the geek strategy is a boon to ratings, with 2.2 million viewers tuning in each week. Purcell intends to take "Late Night" even deeper into G4 territory, with more gadgets, tech news, and Net-born personalities. By the fall, you might find Moot, creator of Web sensation 4chan, sitting in the greenroom with Cameron Diaz.
What do you think - are audiences hungry for technology coverage even from their late night comedians? Will you tune in to "Fanarchy" or post your own video online in the hopes of becoming the next big sports commentator? Or is TV something that should remain passive, not active?
Posted by: Jacque Wilson -- CNN.com senior associate producer
Filed under: Internet • Web cams