Hi Mr. Jobs? Here's all my money. I want the new iPhone. . .NOW.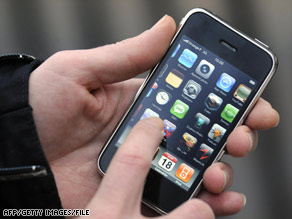 From this fanboy's perspective, tons of cool things were announced today at Apple's World Wide Developers Conference: a new iPhone operating system, cool iPhone apps, new software features including cut and paste and MMS (if AT&T can support it).
But all that pales in comparison to the BIG news: a new iPhone 3GS, available in the U.S. on June 19 (you can preorder from Apple's site), just two days after the 3.0 software release (omg omg, can I get in line now!?!?).
Here's a quick list of the iPhone 3GS's new features
- a 3-megapixel camera with auto focus; you tap the screen on what you want to focus on
- records video (which you can send via MMS, upload to MobileMe and YouTube)
- supports 7.2 Mbps HSDPA (faster mobile Internet speeds, basically)
- voice control; you can talk to your phone to dial numbers, control the iPod functions and more
- two price points: $299/32GB, $199/16GB
- If you're under contract with AT&T, have an iPhone 3G and want to upgrade to the 3GS, AT&T will let you for twice the prices of the new phones, plus an $18 fee.
Have I said I'm excited for push notifications? 'Cause I am. Also the "Find My Phone" feature they announced for MobileMe customers sounds pretty amazing (go to the Web site).
Apple also announced some pretty cool new applications. TomTom will be the first turn-by-turn GPS app in the store, and the accessory dock you can get for it looks pretty cool (oh, I'd love to review this). The Zipcar app also stood out. With it you can reserve your car, find it, and even unlock - it all from the phone.
The new Snow Leopard OS also will bring a ton of improvements. Safari 4 (increased speed and stability and a bunch of hot new features) and updated QuickTime stand out to me.
Oh, and new MacBook Pros. They're cool. All the aluminum unibodies are now MacBook Pros. Apple removed the Express Card slot from the smaller two and replaced it with an SD slot, which is nice if your camera takes SD (my DSLR does not).
So, no tablet. When will we see the long-rumored Apple mid-sized computer? Maybe never, I'm not holding my breath.
What was your favorite detail from the keynote? What did you see that you didn't expect (that voice control thing is pretty awesome). What did you NOT see that leaves you wondering?
Posted by: Cody McCloy
Filed under: Apple • computers • iPhone