Movie studios Lionsgate, MGM, and Paramount/Viacom have teamed up provide a new outlet for their films. Joint venture Epix promises popular movies from all three studios before they hit DVD, and the best part is, cable subscribers can watch on TV or on demand from EpixHD.com for free.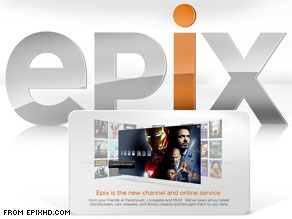 While currently in private beta testing, Epix may soon be in your cable lineup competing with premium channels HBO, Showtime and Cinemax. Epix is working to negotiate deals with cable and satellite providers to offer the channel as part of the standard TV lineup. Ars Technica reports that corresponding online content will then be available to any cable and satellite customer who also subscribes to the same provider's Internet service:
Epixhd.com will only be available to people who subscribe to one provider's TV offering and also subscribe to that same provider's Internet offering. That is, if Comcast were to offer Epix, users would need to pay for both Comcast cable and Comcast Internet in order to access the streaming, on-demand service. That's good for Comcast, and it helps them cover the cost of the service.
It appears that the success of online TV service Hulu and Netflix On Demand may have finally convinced production studios that Internet distribution can be profitable.
An invite-only beta of Epixhd.com began Monday, with a sign-up form for rolling admission over the next few months. With any luck, network negotiations will be successful and we can enjoy films like the new Star Trek on our laptops before they reach DVD... and without having to wait on BitTorrent.
Posted by: Wes Finley-Price -- CNN.com Webmaster
Filed under: file sharing • Hulu • Internet • media players • online video