When you first hear about Hunch, a new site that says it helps people make decisions, it's easy to be skeptical.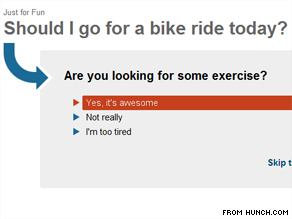 But, before you write the site off entirely, consider the fact that Hunch is really more about information than decisions. Hunch essentially is a site that makes searching the Internet fun.
In a recent interview with CNN.com, Caterina Fake, the site's founder, was careful to say that Hunch is not a search engine, it's "something new." That's true. But it does what Google, Bing and Wolfram Alpha all want to do: it learns something about you and then answers your questions, without sending you to a middle-man Web page that contains a giant list of hyperlinks that may or may not have what you're looking for.
Hunch isn't perfect, but, as Fake points out, it should get better over time, since its computers learn from all the people who use it.
I tested the site ahead of its public launch Monday, and it seemed to know me pretty well. I asked the site which Atlanta neighborhood I should live in, and Hunch's top response was my actual neighborhood. I asked Hunch what blogs I should read and the site spat back a couple of sites I do read and one, called Notcot, that I hadn't seen before, but do find to be neat.
It missed on some other topics, though. For instance, Hunch told me that, if I ever wanted to pick another line of work, I should be an electrical engineer. No chance there.
It's also important that Hunch is pretty fun to use. Using the site feels like taking a bunch of online quizzes, which already are popular on online social networks.
Check the site out and let me know what you think. Also listen to this short clip from my interview with Fake, who also is a co-founder of Flickr. It's my favorite part of our conversation. In it, she explains why she thinks the Internet is so powerful.
Posted by: John D. Sutter -- CNN.com writer/producer
Filed under: Caterina Fake • Flickr • Google • Hunch • search engines