One of the biggest news stories of the day - both in technology and world affairs - remains Iran's presidential election.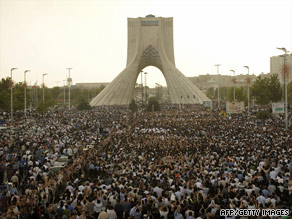 As you've probably heard by now, Iranians are using Twitter to tell the world about local demonstrations on both sides of the dispute, and to communicate with each other. This morning, Iran reportedly banned foreign journalists from covering street protests.
With such importance on social media's coverage of a major news event, it made me wonder: How much are Web sites and online communications censored in Iran? And elsewhere? And how will the spread of social media worldwide lead to a change in the way international news is told?
These questions are too large to answer with a short blog post, but I'll provide a few bits of information here:
CNN's Octavia Nasr writes that Iranian bloggers say the Ministry of Information filters words like "violence," "unrest" and "democracy." Nasr also says the U.S. prevents some video communications from coming out of Iran.
The OpenNet Initiative ranks countries based on their openness online. Check out their map.
The Atlantic's Andrew Sullivan has a good recap of Iran tweets and social-media news.
CNET and the New York Times have good stories on how censorship works in China.
Social media continues to spread around the world. The BBC says Facebook just launched a Swahili version.
Twitter's blog says it rescheduled site maintenance to ensure Iranians could continue communicating about the elections through the micro-blogging service. Twitter seems to recognize its growing impact on global affairs and communication.
The Washington Post has several sites you can use to follow real-time news on Iran. Twazzup, PicFog, Flickr and a local photo blog are a few.
Posted by: John D. Sutter -- CNN.com writer/producer
Filed under: Internet • Twitter