As a longtime Firefox supporter and a web designer who is often frustrated by Internet Explorer's lax adherence to web standards, I was not particularly excited when Internet Explorer 8 (IE8) was released earlier this year. However, Microsoft's new IE8 marketing campaign has managed to grab my attention.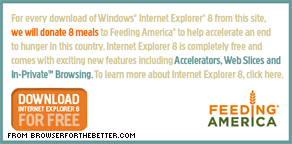 According to a Microsoft press release:
For every completed download of Internet Explorer 8, Microsoft's Browser for the Better campaign will donate the financial equivalent of eight meals to Feeding America's network of 206 local food banks, which supplies food to more than 25 million Americans each year.
In order to participate, users need to download a complete copy of IE8 from the Browser for the Better website by August 8, 2009.
Given that most web surfers (approximately 66 percent of the browser market) already use some version of Internet Explorer, this seems like the perfect opportunity for many people to upgrade. And those of you married to Firefox, Safari or Chrome can still participate.  I'm confident your favorite browser will forgive your brief infidelity if IE8 doesn't satisfy. After all, it was for charity.
Posted by: Wes Finley-Price -- CNN.com Webmaster
Filed under: computers • Google Chrome • Internet • online news