According to Web reports, some iPhone owners have had trouble updating their devices with the phone's new 3.0 operating system, which Apple made available for download Wednesday.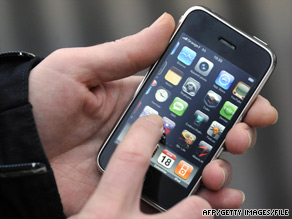 Complaints flooded Twitter and other social-networking sites Wednesday from people who said they received an iTunes error message stating the "iPhone activation server is unavailable."
CNET reporter Stephen Shankland finally succeeded in upgrading his iPhone Wednesday afternoon after some 30 tries, according to a report by his CNET colleague Erica Ogg, who had this take on the issue:
This, of course, is a repeat of what happened last year, when Apple's iTunes servers couldn't withstand the barrage of traffic when customers tried to update to iPhone 2.0 software at the same time new iPhone 3G buyers were attempting to activate their phones.
The problem appeared to have eased by Thursday morning, judging by reports on Twitter.
Did you have issues downloading your new iPhone software? And if you succeeded, how do you like your upgraded phone?
Posted by: Brandon Griggs, CNN.com Tech section producer
Filed under: iPhone