I recently spent a miserable 10 hours on a flight from Europe to the U.S. and it made me think of how wonderful it would have been to be able to take the Concorde and cut that time in half.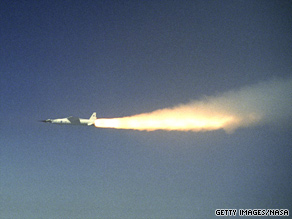 My misery, and a conversation with a colleague about it, inspired an article on the status of supersonic flight six years after the Concorde fleet was retired from service.
Those planes flew at twice the speed of sound, but what if you could travel even faster?
Research continues into hypersonic flight, defined as least five times faster than the speed of sound. The first human to travel at hypersonic speeds was Russian Major Yuri Gagarin 1961 during the world's first piloted orbital flight, according to the U.S. Centennial of Flight Commission.
Future generations might one day zip around the globe in planes that reach those speeds with the help of supersonic combustion ramjets. Also known as scramjets, these engines use external air for combustion, according to NASA.
But there are lots of obstacles to overcome.
"It really comes down to the faster you go, the higher the temperatures associated with the external shape of the airplane," said Peter Coen, principal investigator for NASA's supersonic fundamental aeronautics program.
To illustrate, the temperature on the surface of an object that is traveling at five times the speed of sound reaches 1,800° F, according to the U.S. Centennial of Flight Commission.
"That really requires an airframe that has the life that would be associated with commercial success. That material has not been envisioned yet, never mind invented," Coen said.
Posted by: A. Pawlowski, CNN.com
Filed under: Aviation • NASA