After deliberating for only a few hours, the jury in Jammie Thomas-Rasset's federal retrial found the 32-year-old Minnesota mother liable for willfully infringing the copyrights of 24 songs she downloaded off the Web and awarded record labels $1.92 million.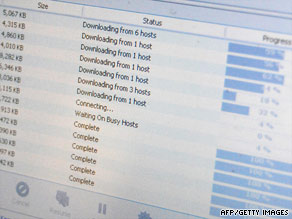 24 cases of copyright infringement will cost a Minnesota woman $1.9 million, a jury has decided.
Thomas-Rasset stood accused of using the file-sharing service KaZaA to download and share music illegally after RIAA investigators at MediaSentry linked several complete song downloads to Thomas-Rasset's computer. While the RIAA initially offered to settle the case for $5,000, Thomas-Rasset insisted she had never heard of KaZaA and decided to fight the charges in court.
The RIAA has sued thousands in its legal campaign against file sharing, but, according to her attorneys, Jammie Thomas-Rasset's case was the first such copyright infringement case to go to trial in the United States. When faced with the astronomical penalties detailed in the Copyright Act, from $750 to $150,000 per infringement, most of those sued accepted settlements from the RIAA for only a few thousand dollars.
Despite a vigorous defense from lawyers Kiwi Camara and Joe Sibley and tearful testimony by Jamie Thomas-Rasset, the jury concluded that she willfully infringed on 24 copyrights and awarded labels $80,000 per infringement.
While I was not particularly shocked by the guilty verdict, the jury's decision to award damages of $1.92 million is rather mind-blowing. The financial ruin this fine will likely cause Ms. Thomas-Rasset is substantially greater than the criminal penalties she might have faced had she stolen the physical CDs.
How do you feel about the verdict? Should the civil penalties outlined in the Copyright Act apply to private citizens who are not downloading and distributing copyrighted material for financial gain?
And before I plow through dozens of comments declaring, "If you can't do the time, don't do the crime," consider lawyer Joe Sibley's closing arguments to the jury, paraphrased here:
If the labels can sue Thomas-Rasset, they can sue any of you. "This could happen to any of us." If a kid, or a friend's kid, downloads some songs on a computer at home, any person could just as easily be on trial with the same evidence against them.
Ars Technica provided excellent coverage of the four-day trial:
Posted by: Wes Finley-Price -- CNN.com Webmaster
Filed under: file sharing • Internet • piracy