So I arrived at my chosen Atlanta-area Apple store about 30 minutes after its early 7 a.m. opening. There are two lines here: one for people like me who preordered their phone online, and one for those who didn't.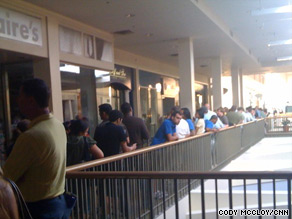 The reservation line stretches around a corner - far enough that I can't see the actual store front. The other line is reportedly shorter, but moving much slower, and a store employee tells us that the bulk of their "specialists" are working this line.
One cool thing: They have a little cart going around with snacks and drinks.
UPDATE: Now there is some confusion over whether I actually have a reservation for a new phone, as I didn't receive a reminder e-mail with the store's name. But I did call a friend several days ago who works at this store, and who conformed that I'm on the list for a 32-gig black iPhone 3GS.
UPDATE 2: Security came up and split the line - making it wrap backwards around a railing - to keep us pre-orderers from interfering with a nearby, yet-to-open kiosk.
UPDATE 3, 9 a.m. ET: An Apple Store employee is carrying around a 3GS for people in line to fondle. The application response time is very fast. The camera app launched quickly, without the lag that seems to plague my 3G, and switched to video mode seamlessly. The auto focus is so cool. Simply touch the screen on what you want to focus on, and a small white box appears around your finger.
The snack cart continues to make the rounds. And I'd guess there are at least 70 people on front of me. Looks like I'll be awhile.
UPDATE 4, 9:40 a.m. ET: I can just make out the faint Apple logo on the front of the store from my place in line.
UPDATE 5, 9:55 a.m. ET: Probably 30 people still in front of me. People are grumbling that they should have just got in the shorter, no-reservation line.
UPDATE 6, 10:45 a.m. ET: An Apple "specialist" in a blue shirt has come to take me to my new iPhone!! I can't wait to get my grubby hands on it. We'll soon know how good that screen coating is at keeping fingerprints at bay.
FINAL UPDATE, 11:30 a.m. ET: I got my phone! And I only had to wait in line for about three and a half hours - which might sound like alot, but last year I waited something like seven, and there was no snack cart. The mood in the line was getting a bit cranky after awhile but quickly improved as we neared the store.
Once I entered the store a nice man named Phil escorted me around, helped me find the accessories I wanted (Contour Hardskin, just like I have on the 3G - though I might get a blue one later - and a matte screen protector), and then we started the activation process.
The activation process took about 10 minutes because there were lots of little steps. The store employee put in my account info, we waited for it to download, I agreed to some terms and waited for it to update. Then my total came up. I handed him a credit card and it came back slightly melted because I refused to wait till December for my new toy. Then he unwrapped the new phone, plugged it into iTunes and, surprisingly quickly, I was ready to go.
I used my new phone to shoot some video of the line as I walked out. Some people laughed and others jeered as they thought I was flaunting my new toy.
Now I'm going to sit in the mall's food court and sync the new phone so it has all my stuff (it already has some contacts, because I quickly set up my Mobile Me e-mail and other services).
I will say this: I got my new iPhone before a friend who had hers shipped to her home. She's stuck in meetings and missed the UPS guy. Shoulda shipped it to work 🙂
Posted by: Cody McCloy
Filed under: iPhone