The new iPhone 3GS was released Friday to much hype and anticipation. iReporters were among the first to get their hands on one, and they shared early reviews with the iReport.com community just hours after purchasing the smartphone. Some of them even tried out iReporting with their iPhone for the first time.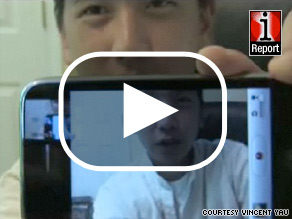 Vincent Yau of Knoxville, Tennessee, called himself a "BlackBerry man" but was pretty impressed by the new iPhone – the first one he owned. Check out his video to the right.
Also giving his new iPhone a whirl on video was David Seaman of New York, who said he would rate it an eight out of 10 and called it an "iReporter's dream come true".
Jose Gout was one of the earliest to get the new iPhone on Friday morning, and posted the very first iReport using it that afternoon. He returned to see the lines dissipate that day, but swell up again on Saturday.
Melissa Fazli spoke to excited customers waiting in line for the new iPhone Friday at a mall in Brea, California. Several BlackBerry owners were there ready to make the switch. Later, Fazli also posted an iReport using her new iPhone for the first time.
Do you own the new iPhone? Tell us what you think about it as well on iReport.com!
Cross-posted at iReport.com's blog.
Posted by: Henry Hanks -- CNN iReport Associate Producer
Filed under: iPhone