HP announced what it calls a "new category" of home printers today.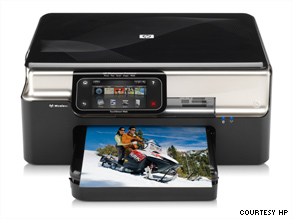 The Photosmart Premium with TouchSmart Web basically is a fancy-named home printer with a 4.3-inch LCD touch-screen panel attached to the front of it. The printer can connect to the Internet, which HP says has never been done.
It seems like HP is trying to ride the iPhone social phenomenon, both with the design of its new machine and with the fact that the company has partnered with others to develop printer "apps" that help you print coupons or customized news reports. Among HP's first print app partners are USA Today, Google, Web Sudoku and Fandango.
HP says the printer will retail for about $399 and hit stores this fall.
But guess what? Smartphones, netbooks and latptops - even the Kindle e-reader - connect to the Internet, too. Why not make printing off of your phone easier?
This begs another question: Aren't we moving past the printed age? Obama is making health care paper-free. Environmentalists decry paper waste and printer ink pollution. You can scan coupons from a smartphone, airline boarding passes are going electronic and news is rapidly migrating onto the Internet. Why print?
Or, if you do want to print something, why not just print from your computer?
In an interview, HP senior vice president Stephen Nigro acknowledged that printing will eventually go away. In the near term, however, home printing is expected to grow, he said.
"We look at it as an evolution, but we don't see printing going away for some time," added Nigro, who said the Web-enabled printer is targeted at tech-savvy consumers.
He touted the new printer as a "big deal," saying it brings "the printing experience into the Internet and Web-connected age."
What do you think: Is this really a big deal or just corporate hype? For 400 bucks, would you buy one?
Posted by: John D. Sutter -- CNN.com writer/producer
Filed under: Internet • technology