As Steve Jobs returns to work at Apple, several other sci-tech developments also are making news today. Here's a brief looks at these start-of-the-week stories: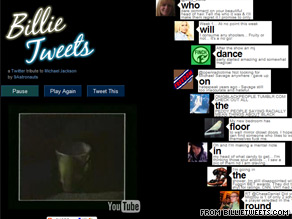 Climate: The U.S. House on Friday passed a climate bill that would cap emissions of heat-trapping gases. Time has a story about what the bill could mean for climate change. Scientists have been asking for action to curb global warming for some time, and The Guardian reports on a new study that says the New Orleans coast will be under water by 2100 because of rising temperatures.
Jackson: Michael Jackson continues to make tech headlines following his death on Thursday. News of the King of Pop's death was so popular it nearly took down some parts of the Internet, CNN reports. If you're not completely sick of MJ videos yet, check out the site Billie Tweets, which pairs Twitter posts about "Billy Jean" with the music video. (Thanks to TechCrunch for linking to the site). It's cool how technology leads to new means of expression.
iPhones: And finally, speaking once more of Apple, reports are surfacing that the new iPhone 3GS is suffering from overheating problems. PC World's Melissa J. Perenson says she was playing a game on her phone and surfing its Web browser Friday for news about Michael Jackson when she noticed the device getting hot:
toasty doesn't even describe how surprisingly hot it got. It was too hot to even put the phone against my face. No discoloration to report, though; I have the black handset, and didn't see any effects.
Wired.com's Charlie Sorrel also discusses the issue in a blog post.
We'll monitor this to see whether these are isolated incidents or the start of a bigger problem for Apple. As always, we'd like to hear from you, too. Have any iPhone 3GS owners out there noticed your new phone getting unusually hot?
Posted by: John D. Sutter -- CNN.com writer/producer
Filed under: iPhone • Twitter