Have you owned every version of the iPhone? Can you rattle off specs for the Palm Pre and the Kindle?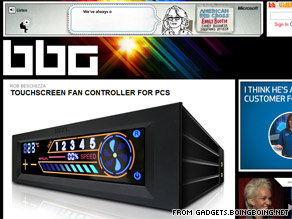 Well, gadgetheads, this post is for you.
A number of new gadget-related Web sites are popping up. Here are some I find interesting. But I'm not the biggest gear junkie, so please let me know what I've missed. I'll check the comments and repost the best of the best.
GDGT: This new site, from the makers of Gizmodo and Engadget, takes a social approach to gadget reporting. It launched Wednesday, according to The New York Times, and lets users create profiles and share their thoughts on new computers, phones, etc. Seems like a good idea to me. The best techies are happy to share their expertise.
Hunch: The decision-making site from a Flickr founder is surprisingly good at helping users choose gadgets that will work for them. Perhaps not as up-to-date as the gadget blogs, but it beats them hands down in its simplicity. Users answer questions and Hunch's computers - and user input - spit out logical answers. Check out the computers/Internet and electronics sections. (Hunch just told me with 80 percent confidence that I need a new iPhone ... we'll see.)
These aren't necessarily new, but here are a few other gadgety sites worth your time:
BoingBoing: A slightly artsy and off-beat take on gadgetry
GeekSugar: Offers a light take on tech news and aims to appeal to women
ArsTechnica: This respected tech blog has a good gadget section that's readable (even if you don't speak PHP) but still techie
CNET's Crave: The trusted geeks of CNET post gadget updates here (full disclosure: CNET is a CNN.com partner site)
Wired's GadgetLab: From phones to bicycles, a fresh look at gadgets with a wide lens (Wired.com also is a CNN.com partner)
GadgetWise: The NYT's answer to Gizmodo and Engadget; good for general audiences
Consumer Reports: The Web's bread and butter for reviews has an electronics section
Posted by: John D. Sutter -- CNN.com writer/producer
Filed under: gadgets