The world of Web browsers - those programs that determine how you experience the Internet - is expanding to include tools for certain subsets of people.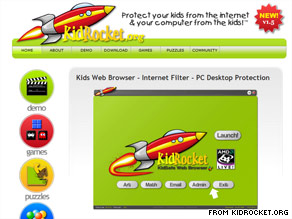 Now there are browsers designed for specific demographics like children, autistic people and online social media users.
The kids' browsers help youngsters stay away from the darker corner of the Internet. They also can be set to limit a child's time online - a tool that might help some adults, too.
Here are a few to check out: Buddy Browser, Kid Rocket and KidZui.
Also check out this parents' guide to Internet safety, from NPR.
ZAC Browser is designed to help austistic people surf the Web more intuitively. It's visual instead of text based and tries to eliminate computer functions and visuals that an autistic person might find distracting.
And Flock, a browser built on Mozilla Firefox technology, is designed to help social media users get more out of the Internet. A new version beefs up the browser's compatability with Twitter and Facebook, VentureBeat says. Both of those social-networking sites live in a sidebar on the browser.
What do you think of these new ideas for browsers? Know any targeted browsers I've missed?
Posted by: John D. Sutter -- CNN.com writer/producer
Filed under: Web browsers