For less than the cost of a cup of coffee, Best Buy will sell you a 1.60GHz Atom-powered netbook from Compaq. The catch, and it's a big one, is that you must sign a two-year EV-DO data service agreement with Sprint.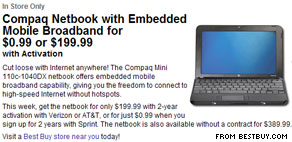 The practice of subsidizing mobile phones with service contracts is quite popular, but this is the first time I have seen a netbook sold in this fashion.
According to Sprint's Web site, 3G mobile data plans start at $59.99/month. So over two years, that $1 netbook would actually set you back nearly $1,440.
Tom's Hardware notes the Compaq 110c-1040DX netbook retails for $389.99 without any additional features, and admits the "$1,440 bill may sound a bit hefty," but contends "consumers looking for new hardware and mobile Internet service may find a great value here."
How do you feel about the hardware-and-wireless-service bundles that dominate the cell phone market coming to portable computers?
Personally, signing a two-year contract for a netbook sounds about as appealing as mayonnaise left in the sun...but maybe that's just my fear of commitment.
Posted by: Wes Finley-Price -- CNN.com Webmaster
Filed under: computers • consumer tech