As a gamer for many years, I've had to kill monsters, demons, mutants, Sith and other virtual targets. But until now, I've never had to kill baby seals.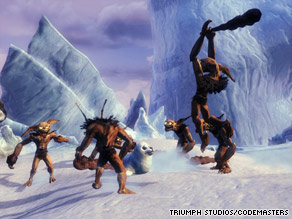 Blame the new video game, "Overlord II," which lets you become an evil ruler who is bent on taking over the world from the Empire (think Romans). When I started, I was a minor overlord with limited abilities and minions. To increase my strengths and horde of followers, I had to gather Life Force, which is released by baby seals as they die.
So I ordered my minions – small, goblin-like creatures that obey your every command - to club the cute, wide-eyed seal pups.
My initial thought was, 'Oh my God, I'm killing baby seals.' But after the initial shock, the attacks on the baby seals almost become amusing. The slaughter is not bloody or gory and is obviously conceived with tongue firmly planted in cheek.
I have to say, the minions are quite good at this task. They believe they are getting revenge for the fish the seals eat, which adds to the humor factor.
You might expect PETA or other animal-rights groups to be all riled up about this feature, which was not present in the first "Overlord" game. (Triumph Studios developed "Overlord II," which is rated T - meaning acceptable for teens.) Yet there's been hardly a peep online about the "mistreatment" of the seals.
I'm still early in the game, and I'm very curious to see if "Overlord II's" designers ramp up the "killing cute creatures" factor as I progress. Is that a litter of kittens I see on the horizon?
–– Larry Frum
Filed under: video games