John Stoll lives amongst about 38,000 hours worth of audio recordings.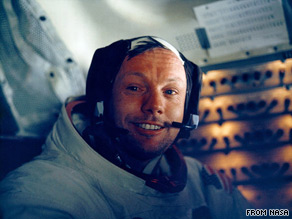 As NASA's lead audio engineer, it's his job to take care of these tapes and files, which record every second of every NASA mission since the U.S. space agency started sending chimpanzees into space, he said.
On Thursday, Stoll will start playing what amounts to his opus.
He will share with the world the audio recordings from the Apollo 11 mission, which put the first man on the moon. All 190 hours of the mission will stream on NASA's Web site, coinciding exactly with the dates and times of the original mission - only on a 40-year delay.
The mission recordings will begin playing at about 7:30 a.m. ET on Thursday and will continue for eight days, ending at 12:30 p.m. ET on Friday July 24, NASA says.
Those who don't want to listen to the whole, 190-hour broadcast can find some highlight clips here.
In their entirety, the recordings offer a gritty, real-life take on history that you can't find in books or old television footage, Stoll said.
His favorite part, of course, is the moon landing, which happened at 4:18  p.m. ET on July 20, 1969, and will be broadcast at the same time on Monday.
On the recording, you hear the NASA flight director in one ear and the audio feed from the moon in the other. At about the time Neil Armstrong announces that "the Eagle has landed," Stoll said, the flight director's voice is tense as he has to figure out whether to declare the landing a success or to pull back. Stoll said he never felt that tension until he listened to the raw recordings.
"That call, it was just really cool to listen to because everything is just happening so fast," he said, "and you don't get to hear that, especially if you see it from the outside."
Stoll said he and other NASA employees in Houston, Texas, are in the process of digitizing NASA's entire audio collection, most of which is on old-fashioned tape. The older tapes, like the ones from Apollo missons, are in great conditon and are kept under strict environmental controls, he said. But newer tapes, like those from the 1980s, tend to gum up reel players. He has to heat those tapes to 130 degrees with a small oven before he can play them.
All of that work will soon culminate in a public Web site where people can listen to NASA audio from many other U.S. space missions.
That site should go up in two months or so, he said.
But it's probably best to get through the eight days of Apollo recordings before you worry about more.
Posted by: John D. Sutter -- CNN.com writer/producer
Filed under: NASA