Only 12 men have had the honor of walking on the moon, but six astronauts were in charge of getting them there and bringing them home safely. These were the command service module pilots, whose job it was to circle the moon and return to Earth - without setting a foot on the lunar surface.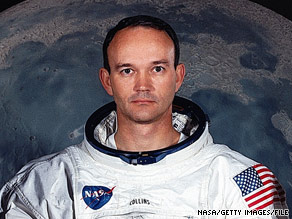 These six people are often overshadowed by the moonwalkers. Their stories are worth telling, though, especially in honor of the upcoming 40th anniversary of the first lunar landing.
The first CSM pilot is the most famous. Michael Collins flew on the Apollo 11 mission, carrying Neil Armstrong and Buzz Aldrin to the moon for the first lunar landing. He circled the orb for nearly a day in solitude. For 48 minutes out of each orbit he was out of radio contact with Earth.
In his autobiography, Collins wrote "this venture has been structured for three men, and I consider my third to be as necessary as either of the other two." He also said he never felt lonely, but "awareness, anticipation, satisfaction, confidence, almost exultation."
Richard Gordon, commander of the Yankee Clipper – the Apollo 12 CSM, was the second to orbit the moon while others walked on the surface. While he circled, he mapped out potential landing sites for future missions. He was slated to walk on the moon in the Apollo 18 mission, but that mission was canceled.
Stuart Roosa spent 33 hours in orbit during Apollo 14. His skill as the CSM pilot was needed after initial attempts to dock with the lunar module failed.
Alfred Worden was listed in the Guinness Book of World Records as the "most isolated human being" while he was orbiting the moon during the Apollo 15 mission. When the Endeavour was at its greatest distance from the lunar crew, Worden was 2,235 miles away from any other human being.
Ken Mattingly is probably well known for his actions on the ground of the ill-fated Apollo 13 mission, but he finally did get to go to the moon for the Apollo 16 launch. Mattingly used instruments aboard Casper to map a stretch of the lunar surface all around its equator.
The final mission, Apollo 17, put Ronald Evans in control of the command module, America. Evans holds the record of more lunar time in orbit than anyone else: 147 hours, 48 minutes.
Each of these men spent countless days training next to their more-heralded moonwalker colleagues. Yet, while their capsule brethren actually touched another heavenly body, these brave astronauts could only stare out their window and marvel at the view.
- Larry Frum