Keeping in touch with older relatives can be challenging when they don't use e-mail. You can't send grandparents digital photos unless they're techno-savvy, so you'll have to find a decent printer or pay to print them out. Then, you have to put it all in an envelope, and stick on proper postage. But maybe you're traveling and don't have time for all that, or don't want to feel stuck in the 1990s.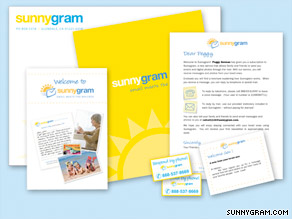 A new Web site called Sunnygram is helping update and enhance communications between young people and their relatives who do not use the Internet.
Co-founder Matt Ahart was inspired to start the service when he found himself sending e-mails to his mother so that she could print them out and show them to his grandmother. What if there were a service that could facilitate electronic correspondence between people and their grandparents?
The idea is simple: Your older relative gets an e-mail address that you can write to, and Sunnygram prints out your messages and photos and sends it via snail mail in a weekly "newsletter" that's a lot prettier than an e-mail printout. Then, the relative has the option of responding in writing on personalized stationary, or electronically by calling a phone number and leaving a voice message, which gets transcribed and sent to you in an e-mail. The service provides unlimited e-mail and photo printing, and any number of family members and friends can correspond with the designated holder of the e-mail address.
Sunnygram also reminds you when a special occasion is coming up, such as Mother's Day or Father's Day, in addition to reminding you to write to your relative if you haven't in a while. "Our users can rest assured that Grandma won't be forgotten," Ahart said.
Since launching in April, Sunnygram has been adding customers around the U.S. and the world, including members of the military writing to their elderly relatives. And some people are using it to bridge communication gaps that don't necessarily have to do with age. Sunnygram has been used among family members of people in prison. "It's not just about age or technological savvy - sometimes other circumstances in their lives cause them to not be able to check email, but to have access to mail, so we step up in that situation," Ahart said.
The service costs $9.95 a month, with a one-month free trial. The service will also soon launch a Facebook application, Ahart said.
Posted by: Elizabeth Landau -- CNN.com Writer/Producer
Filed under: Internet