Last week owners of Amazon's Kindle e-book reader felt the painful effects of DRM (Digital Rights Management) when Amazon remotely removed copies of George Orwell's 1984 and Animal Farm from their libraries.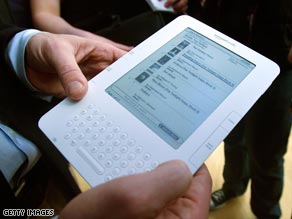 Amazon explained that the books had been mistakenly released and the e-book publisher did not own the rights to sell the either novel. However, the company's explanation and a refund did not appease readers who felt their personal copy of 1984 was remotely destroyed by Big Brother.
The Internet lit up with blogs and forum posts condemning Amazon's actions. InformationWeek claims Amazon can't keep its promises, and Slate likens the deletion to book-banning's digital future:
Amazon deleted books that were already available in print, but in our paperless future—when all books exist as files on servers—courts would have the power to make works vanish completely.

[Harvard law professor Jonathan Zittrain] writes: "Imagine a world in which all copies of once-censored books like Candide, The Call of the Wild, and Ulysses had been permanently destroyed at the time of the censoring and could not be studied or enjoyed after subsequent decision-makers lifted the ban."
Police routinely confiscate stolen property. But copyright infringement, similar to possessing improperly licensed books, was determined by the Supreme Court case of Dowling vs. United States not to constitute theft. Amazon's actions were an effort to please publishers who wanted the book pulled rather than a legal requirement.
Amazon has acknowledged that deleting the books from users' personal devices may have been a mistake. In an e-mail to the New York Times Amazon spokesman Drew Herdener said, "We are changing our systems so that in the future we will not remove books from customers' devices in these circumstances."
Do you think Amazon's decision to remotely delete the books was justified to defend copyright, or should digital content hold the same protections as physical property? Will Amazon's promise to change its policy restore your confidence in the Kindle?
Update [July 24, 2009]
On Thursday, Amazon CEO Jeff Bezos posted this apology on a Kindle community public forum:
This is an apology for the way we previously handled illegally sold copies of 1984 and other novels on Kindle. Our "solution" to the problem was stupid, thoughtless, and painfully out of line with our principles. It is wholly self-inflicted, and we deserve the criticism we've received. We will use the scar tissue from this painful mistake to help make better decisions going forward, ones that match our mission.

With deep apology to our customers,

Jeff Bezos
Founder & CEO
Amazon.com
Posted by: Wes Finley-Price -- CNN.com Webmaster
Filed under: books • consumer tech • DRM • gadgets