The Web is full of middlemen and aggregators. Google is the biggest. Digg once was the coolest. And now Twitter and URL-shortening services create (mostly) transparent bridges between Web content, like news stories, and online readers.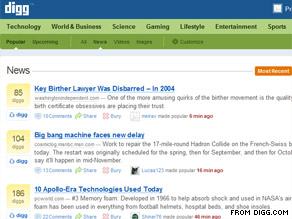 People both love and hate these go-betweens. On one hand, sites like Digg, Facebook and Twitter give readers access to all kinds of news and social content they might not otherwise see. But small changes can make a benevolent middleman seem downright meddlesome.
And that's what happened to Digg this week.
The Web 2.0 rock-star site - which lets a community prioritize news stories by voting them up or down - is drawing fire from tech blogs for sticking itself between its links and the news stories it promotes. A confusing change to the site's service caused some shortened story links to redirect to Digg's pages, rather than to the original pages on blogs and news sites.
Don't get bogged down in the details of the change. Part of the problem is that the change is confusing to everyone. TechCrunch writer Jason Kincaid calls the move "career suicide" for a Digg toolbar and "incredibly irritating" to users.
On its blog, Digg says it backed off of the change somewhat, making it only apply to future news stories, not retroactively to all Digg-shortened links.
But part of Digg's problem is that the site is overly responsive to criticism in a way that obscures its vision of the future, writes Josh Lowensohn of CNET, a CNN.com content partner.
Behind the Digg story is another fear: that other go-betweens, particularly URL shorteners, will start similarly bothersome practices in order to direct more traffic to their sites. [See a new chart of the top sites for sharing URLs: Facebook leads with nearly a quarter of the market.]
Right now, sites like bit.ly and snurl.com take Web links and shorten them so they'll fit in Twitter posts or e-mails without taking up too much space. Click on one (this for example: http://bit.ly/iqfI) and you go straight to the original site. These services may outcompete Digg's linking service because of their simplicity and reliability, writes Michael Arrington of TechCrunch.
But there also could be a future in which all links must pass through a middleman site, thus slowing down search for online news and entertainment down.
Posted by: John D. Sutter -- CNN.com writer/producer
Filed under: Digg