Apple reported record earnings on Tuesday. But what does that mean?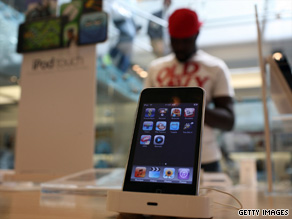 The BBC says the software company has a good problem: It can't make new iPhones fast enough.
"We are currently unable to make enough iPhone 3GSs to meet robust demand, and we're working to address this," said Apple's chief financial officer Peter Oppenheimer in a conference call about quarterly earnings, the news site says.
What's more, Apple plans to release the popular new iPhone - which has a video camera and is touted as faster than its two predecessors - in 20 new countries in August. The phone is expected to be sold in a total of 70 countries by the end of the year.
TechCrunch has a different take. The blog says the report is an indicator that the basic iPod - once Apple's flagship mobile device - is effectively dead.
It's been replaced with the iPod Touch, which looks more like the red-hot iPhone and accesses the Internet with Wi-Fi, which old-school iPods don't. The blog does some math to determine that old iPods are sinking otherwise stellar numbers for Apple's mobile devices, or "pocket products":
Of the three pocket products, two saw huge year-over-year growth this quarter, one did not. While iPhone sales grew a massive 626% year-over-year, iPod touch sales actually grew just about 130% too. And while Apple may consider the iPod touch outside of the iPod line, for financial purposes, it's still counted with them. So when you hear that overall the iPod family saw a 7% decline year over year, you know that the actual iPod numbers minus the iPod touch, must not be very good at all.

And while Apple wouldn't specifically give those numbers, Oppenheimer did note that the iPhone and iPod Touch are very much "cannibalizing" the stand-alone MP3 iPod market.
Here are some highlights from the report, compiled by Fortune, a CNN.com content partner:
Mac sales: 2.6 million units, up 4% year over year
iPhone sales: 5.24 million units, up 626%
iPod sales: 10.2 million units, down 7%
Gross margin: 36.3%, up from 34.8% last year
Cash holdings: $31.1 billion, up $2.2 billion for the quarter.
Guidance for the September quarter: revenue between $8.7 and $8.9 billion, EPS between $1.18 and $1.23, and gross margins of 34% — considerably higher than expected.
What do you make of the numbers? Are you among the iPhone converts? Feel free to chime in with comments.
Posted by: John D. Sutter -- CNN.com writer/producer
Filed under: Apple • iPhone • iPod