Thanks to those of you who responded to my story about changes in the digital music scene.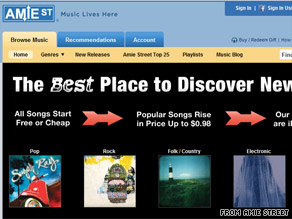 I listed 10 Web sites where you can find new music. The story was pinned on the news that some formerlly illegal and shut-down sites - like KaZaA, Napster and possibly Pirate Bay - are clawing their way out of the grave in legal forms. It's all part of the Internet's shifting music scene. Streaming music is becoming more popular; buying it, less so.
Many readers chimed in with cool Web sites I didn't include. Here are a few of your favorites, from the story comments:
Amie Street: an indie download site where popularity determines price
Folk Alley: streams folk music
Slacker: one reader calls this "by far the best online streaming site I have seen so far"
Jango: radio-like streaming
LastFM: recommends music based on what you like
iTunes and Amazon: they were left off the CNN list because they're not new or changing, but they remain staples just the same
As always, thanks for the input!
Posted by: John D. Sutter -- CNN.com writer/producer
Filed under: Music