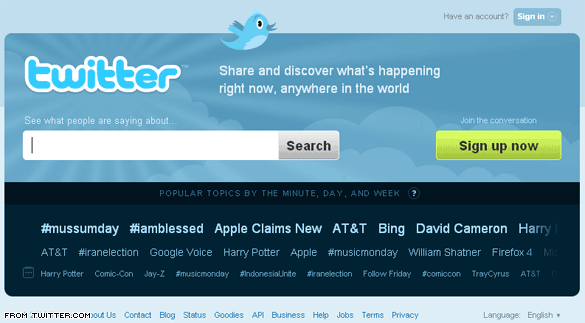 Twitter.com unveiled a new design for its homepage today that brings search functionality to Twitts and non-Twitts alike.
The new homepage design features a prominent search field that can be accessed without logging in to Twitter. Public tweets that match your query are cleanly rendered below the search area.
The new look also includes trending topics by the minute, hour and day. Clicking on one of these topics provides a brief description followed by recent search results.
TechCrunch sees the change as a step forward for Twitter:
This is simply part of Twitter's goal to make the service more accessible and obvious to new users, as well as increase engagement, and the use of search/trends. The bigger goal is to make it easier for businesses to use Twitter, which will allow the service to finally make some money.
What do you think of the change? Would you like to see similar updates to the internal areas of Twitter or do you like things the way they are?
Posted by: Wes Finley-Price -- CNN.com Webmaster
Filed under: Internet • online news • Twitter