A 127-character tweet about a moldy apartment in Chicago could end up costing @abonnen $50,000.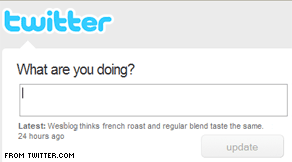 On May 12th Amanda Bonnen, who has since deleted her Twitter account, responded to a friend with the tweet, "@JessB123You should just come anyway. Who said sleeping in a moldy apartment was bad for you? Horizon realty thinks it's okay."
@abonnen only had about 20 followers that directly received the message, but her profile was set to public, and Chicago-based Horizon Group Management discovered the tweet.
Chicago Now reports the company then filed a defamation lawsuit alleging Bonnen, "maliciously and wrongfully published the false and defamatory Tweet on Twitter, thereby allowing the Tweet to be distributed throughout the world."
Horizon is seeking $50,000 in damages.
If @abonnen's statement is determined to be false and tweets are considered a legitimate form of publishing, she could be held liable for damages to Horizon's reputation. But it isn't quite that simple.
Ars Technica explains some of the complexities:
There is much debate as to whether people's Twitter streams are more like blogs—which are increasingly being held to the same legal standards as regular media when it comes to defamation—or a giant chat room, where most people presume "anything goes." It may actually be somewhere in between, but the one problem with trying to hold tweets to a higher journalistic standard is the hard character limitation—it's difficult to back up your comments within 140 characters (or even within several 140-character tweets), plus links to sources or pictures of evidence.
Horizon owner Jeffrey Michael told the Chicago Sun-Times the company never tried to contact @abonnen about the tweet adding, "We're a sue first, ask questions later kind of an organization."
Michael later said his remark was meant to be "tongue-in-cheek," and further explained his company's position:
No mold was ever found but her unit was one of several that experienced an overnight leak during roof repairs...

On June 24th, much to our surprise given her previous silence, Bonnen sued Horizon Realty Group, and we are currently defending this claim which, again, we believe has no merit. In conducting our due diligence into this matter, we identified Bonnen's public Tweet regarding mold and acted to protect our reputation.
Unfortunately for Horizon, the media attention surrounding this Twitter lawsuit will likely damage the company's reputation far beyond the scope of @abonnen's message to her 20 followers.
Do you feel tweets should be held to the same legal standards as other publications regarding defamatory remarks, or does the conversational nature of social networks release them from libel?
Posted by: Wes Finley-Price -- CNN.com Webmaster
Filed under: Internet • online news • social-networking sites • Twitter