Matt Stewart wants to revolutionize literature, even if it means surrendering some authorial control to the social-media masses. The San Francisco-based author is tweeting away his entire novel, "The French Revolution," on Twitter, claiming to be the first person to do so on the micro-blogging site.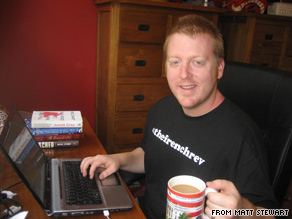 "I see this as a way to give people quick shots of literary joy throughout their day," he said during a recent interview on CNN.com Live.
Stewart, who describes his writing style as a cross between Junot Diaz and Jonathan Franzen, believes some people may be simply too busy to sit through an entire book.  But they do have time to absorb 140 characters, he said.
Still, Stewart does not think Twitter's short-attention-span format is ideal for reading a novel.
"I don't honestly expect people to read the whole book on Twitter. It's just not that convenient to follow a long form story," he told CNN.
If you're picturing Stewart glued to TweetDeck all day, that isn't the case.  A friend of his built a tool that breaks down the novel into 140-character bits and automates the tweets.  Stewart said it should take about a month to post the entire book.  Right now, he has about 1,000 followers on his Twitter page.
Free copies of his novel are posted on his Web site, and he's also selling a $2 version for Amazon's Kindle e-reader. Stewart encourages authors to explore new ways to connect with their fans, and even surrender some control in the process.
"We're not using any of the cool technology we have to make books more interesting," he said. "I think that books and the industry will benefit by trying new things to attract new readers."
Posted by: Valerie Streit — CNN.com Producer
Filed under: Twitter