In an attempt to generate new revenue, the Associated Press has partnered with iCopyright to charge licensing fees for quotes as short as five words.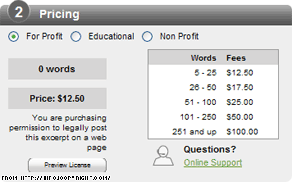 Quoting 5 words from an Associated Press story costs $12.50.
When linking to articles, news aggregators and bloggers commonly include excerpts to provoke discussion.
I understand the AP's desire to protect its content, but the decision to charge for excerpts that include links to its articles has me scratching my head. Without outside links to generate interest and drive traffic, what will happen to AP content online?
Ben Parr from Mashable weighs in:
The company's complaint is that blogs and news aggregators (i.e. Google News) are taking its content and making all the advertising revenue. What they forget is that they provide a great deal of traffic and attention to content creators in the process.
Under the AP's licensing system, I would owe Mashable $25 for that quote. But more likely, I would have ignored Parr's article altogether to avoid paying a fee, and Mashable would have lost traffic.
In a statement released Monday, the Associated Press claims the licensing "form is not aimed at bloggers. It is intended to make it easy for people who want to license AP content to do so."
Bloggers may not be the primary targets, but vague licensing terms leave open the frightening prospect of legal action against anyone who quotes an AP article.
Executives at the AP are shooting themselves in the foot with this decision. Bloggers and aggregators are the best source of free advertising, and the traffic they generate is worth much more than $2.50 per word.
And you can quote me on that.
Posted by: Wes Finley-Price -- CNN.com Webmaster
Filed under: Internet • online news • technology