Twitter's Web site is down, and, based on my feed, has been since about 9:30 a.m. ET.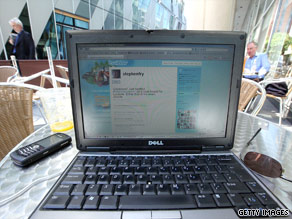 This is causing a bit of freak-out online, but I'm wondering what you make of the situation.
When online social media services like Twitter and Facebook cut out for 30 minutes or an hour, does that disrupt your social life? Does it affect your business?
Do you think the Twitter-is-down hysteria is legitimate, or are people just looking for something to say online? If the panic is warranted, I wonder what that says about our hyper-connected society and our reliance on technology that helps us feel like we're part of the world.
As an aside: Does anyone else miss the Twitter fail whale? The iconic cartoon whale tried to put a positive, we're-in-this-together spin on the rapidly growing site's failures. This morning you won't get the fail whale image if the site doesn't load, though. I get a standard error message. (See this CNN.com story for more on fail whale fans)
We'll keep monitoring the situation to see when Twitter comes back, and how much chatter this is getting in the blogosphere. In the meantime, please help us out by sharing your thoughts with comments to this post.
Here are a few ways to keep up with the situation yourself:
IsTwitterDown.com: Check the site for a one-word answer. Currently: yes.
Twitter status: Documents Twitter mishaps and problems.
Twitter's blog: Seems to be down now, but Twitter's staff posts here about updates and site issues.
UPDATE: 10:54 a.m. ET: Twitter says it is defending against a denial of service attack. More from the site's blog.
UPDATE 10:41 a.m. ET: In an e-mail to CNN.com, Twitter co-founder Biz Stone said the company is looking into the site failures and will update its status blog with any new information. He did not elaborate on potential causes of the outage.
Posted by: John D. Sutter -- CNN.com writer/producer
Filed under: Twitter