One lesson worth taking away from Thursday's social media shut-down is the fact that all of us can be complicit in cyber-attacks if we don't protect our computers.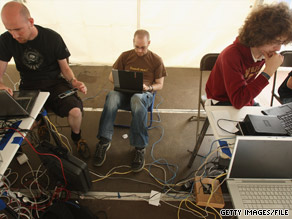 The attack that shut down or caused glitches in several social media sites was aimed at a particular person. But whomever conducted the attacks used other peoples' computers to do so. These are ordinary people like you and me - and I'll bet many of them don't know they were part of the problem.
Twitter and Facebook say they were hit by a "denial of service" attack, which means a hacker or group of hackers infected a bunch of computers, got control of them, and then used them to overwhelm the sites.
It's hard for big sites like Twitter and Facebook to protect themselves from a denial of service attack.
But there are things you can do to make sure your computer doesn't turn into a hacker's pawn. Here are a few government links with helpful information:
Strengthen your password: Use different passwords for all of the sites you use (you can manage them with this service), and make them complicated so they're hard to crack.
Use anti-virus software: And be sure to keep it up to date.
Reduce spam: Before giving out your e-mail address online, look at the site's privacy policy.
I've gotten a bunch of questions lately about the security of user information on Twitter and Facebook. Both sites have e-mailed me statements saying that users' information was not compromised as part of Thursday's attacks.
But to protect yourself on social networks in general, here's another government site with some background and tips. The gist: don't give out information you wouldn't want everyone to see; and, again, use strong passwords.
Posted by: John D. Sutter -- CNN.com writer/producer
Filed under: Facebook • Twitter