Anyone looking for a slick, thoughtful overview of the rapidly evolving state of video games may want to check out a mini-documentary, "Video Games Are Dead," which premiered today on DigitalTrends.com.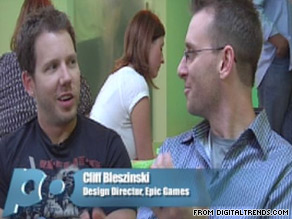 The doc's provocative title is misleading - gaming is alive and well, thank you - and refers not so much to the recent slump in video game sales as to the industry's fracturing business model. In other words, recession-minded people are increasingly bypassing pricey console games for cheaper, more mobile games they play online, on their smartphones or even on social networks such as Facebook.
"I'm not sure if there's a future for set-top consoles, honestly," says software developer Raph Koster of Metaplace, one of many industry experts quoted in the 18-minute film (the doc is split into two halves; Part 2 goes live on the site Aug. 17). "They're kind of at a crossroads."
"It's going to be very hard for retailers to keep on encouraging people to build such big [console] games to be sold at the shelf to cover all those extra costs that the gamer doesn't care about at all," agrees game developer Lorne Landing, co-founder of Oddworld Inhabitants. "My personal prediction is that when we look at the future of games at retail, we don't see it – in five years, it's going to be like trying to find music on vinyl."
But this isn't necessarily a bad thing, says DigitalTrends publisher Scott Steinberg, who narrates the mini-doc. Steinberg believes a new generation of creative, indie developers are broadening the playing field and bringing gaming to new audiences. As examples he cites Flash games, MMO blockbusters such as "World of Warcraft" and the Facebook brain-teaser game, "Who Has the Biggest Brain," which has more than 3.7 million active users.
"What we're really seeing is a return to a second golden age of play [after the first golden age of the late '70s and early '80s]," said Steinberg, who also predicts consumers will increasingly stream games through their PCs or cable TV boxes. "People are playing more games than ever ... in more ways than ever."
Do you agree? Will console games eventually fade, or are hard-core gamers always going to want specific gaming platforms?
Posted by: Brandon Griggs, CNN.com Tech section producer
Filed under: video games