Attention stargazers: If you don't mind getting up early (or staying up late) and can get to a rural area without a lot of lights, the skies should put on a show Wednesday about 4 a.m. ET.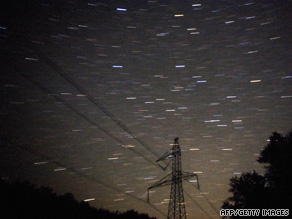 Last August's Perseid meteor shower as seen over Bulgaria.
That's when the annual Perseid meteor shower should reach its peak over the east coast of North America, according to SpaceWeather.com. The Perseids appear to come from the constellation Perseus but are actually bits of debris from the Swift-Tuttle comet, which has been orbiting the sun for centuries. The Earth passes through these streams of shooting stars every August.
Astronomers expect up to 200 meteors per hour, although many of the fainter fireballs will not be visible due to moonlight. And of course, clouds or bad weather could render them not visible at all.
If you're lucky enough to witness the Perseids and want to share what you saw, astronomers from the United Kingdom are organizing what they claim to be the world's first mass-participation meteor star party.
The Newbury Astronomical Society is leading a global network of stargazers who will post real-time images of the Perseids on - what else? - Twitter (#meteorwatch). Good luck.
Posted by: Brandon Griggs, CNN.com Tech section producer
Filed under: Astronomy