Microsoft released a mandatory update for the Xbox Live Dashboard this morning. Along with user interface enhancements, the update provides a variety of functional updates to the game console's online capabilities.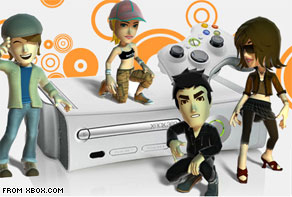 Games on demand
Xbox 360 users with a fast Internet connection and hard drive space to spare can now download complete titles from the new games marketplace. The marketplace only includes about 20 games at the moment, but Microsoft says new titles will be added every Tuesday.
I am a little disappointed by the pricing in the games marketplace. The online games seem to cost slightly more than purchasing a physical copy at your local Best Buy. Plenty of people will likely pay a few extra dollars for the convenience and instant gratification of games on demand. I just can't help but feel the lack of physical packaging and a direct-to-Microsoft payment plan should result in drastically lower prices.
Avatar marketplace
For those of you in love with the customizable cartoonish avatars that represent each person in the Xbox Live universe, the update includes a new avatar marketplace.
According to Xbox.com users can "Download and purchase premium items, including branded apparel from your favorite fashion labels and Xbox 360 games."
I don't think my avatar is getting a flashy new wardrobe if it requires me to open my wallet, but I have no doubt some gamers are excited to distinguish their virtual selves with unique outfits and props.
Netflix
Netflix has been available on Xbox Live for some time, but with the new update you no longer need a computer to add titles to your instant viewing queue.
Xbox boasts that Netflix subscribers can now "browse through new releases and other genre lists based on the types of shows you've previously watched, all from the comfort of your couch."
Coming soon
Unfortunately, anticipated features such as Facebook and Twitter integration are not yet available, but Xbox promises social networking and Zune video will be added this Fall.
After toying with the new dashboard for a day, I was impressed by the Netflix updates, additional console settings, and enhanced video controls, but nothing struck me as a radical development.
Are you pleased with the new features included in this dashboard update? Or does your Xbox Live experience seem largely unchanged?
A full list of features included with the new update can be found on Xbox.com.
Posted by: Wes Finley-Price -- CNN.com Webmaster
Filed under: Games • Gaming • media players • online video • video games