Google has announced it is testing a new form of search architecture codenamed "Caffeine," and the company wants your help to examine the results.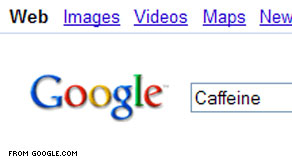 According to a post on the Google Webmaster Blog:
For the last several months, a large team of Googlers has been working on a secret project: a next-generation architecture for Google's web search. It's the first step in a process that will let us push the envelope on size, indexing speed, accuracy, comprehensiveness and other dimensions.
Google's current search infrastructure relies primarily on hyperlinks. Pages that receive a large number of incoming links from external sites are given a higher PageRank and are more likely to appear near the top of Google's search results.
Google is unlikely to stray far from its successful PageRank system, but the possibility of new search results is a huge deal to companies that rely on Google-generated traffic or those who have invested heavily in search engine optimization (SEO).
Business Week claims "Caffeine may cause corporate jitters:"
Google suggested that Caffeine could change search results, which raises the prospect of companies' needing to change their search engine optimization (SEO) to protect their Google ranking.
To test Caffeine for yourself, visit: http://www2.sandbox.google.com/
Google admits "most users won't notice a difference in search results," but the company is still looking for "feedback on the differences between Google's current search results and our new system."
Did you notice any substantial differences in your searches with Caffeine? Were they more accurate than Google's current results?
Posted by: Wes Finley-Price -- CNN.com Webmaster
Filed under: Google • Internet • Mathematics • online news