Redbox operates DVD rental kiosks at over 15,000 retail locations across the country. The automated self-service systems hold over 600 DVDs and allow customers to pick up movies for only $1 per day.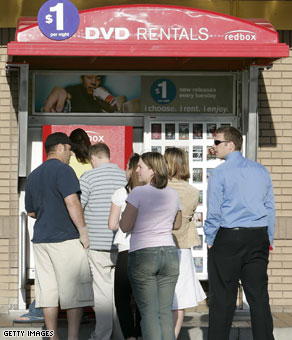 The kiosks are gaining popularity, but their price and ease of use aren't winning over everyone. 20th Century Fox and Universal Studios have ordered wholesalers not to sell newly released DVDs to the rental company.
In a conference call with the Los Angeles Times, News Corp COO Chase Carey criticized the low-priced kiosks. "Having our [movies] rented at $1 in the rental window is grossly undervaluing our products," Carey said. "We are actively determining how to deal with it."
Unlike Blockbuster and Netflix, Redbox does not share profits from rentals with the major movie studios. But why should they?
The rental kiosks do not violate copyright law since they legally purchase the DVDs, and any form of unnecessary profit-sharing would certainly raise prices for consumers.
Upset by Redbox's success, Fox and Universal are leaning on wholesalers who distribute their DVDs to cut ties with the rental company. Redbox has responded by suing the studios for anti-competitive practices and abusing copyright law.
According to Ars Technica:
Redbox said that "Fox seeks to strangle" the low-priced rental market in order to maintain its own "artificially high" pricing scheme.

Meanwhile, Redbox plans to continue offering new releases from all studios, even if it means employees have to buy the DVDs at retail price the old-fashioned way.
Do you think the criticism of Redbox's pricing is justified? Should Redbox share profits with the major movie studios in exchange for new releases, or should the company remain independent?
Posted by: Wes Finley-Price -- CNN.com Webmaster
Filed under: Movies • technology