Here's a round up of a few tech stories you should know about before heading into the weekend.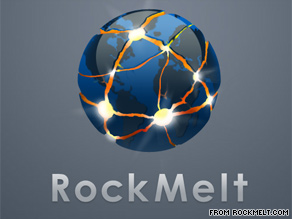 Microsoft: A group of Web developers is out to kill Microsoft's Internet Explorer 6 Web browser. But, according to the BBC, the software giant is standing behind the product - in part because it has to keep the browser going for corporate customers:
"Friends do not let friends use IE6," Amy Barzdukas, Microsoft's general manager for Internet Explorer, told the network.

"If you are in my social set and I have been to your house for dinner, you are not using IE6," she said. "But it is much more complicated when you move into a business setting."

"It's hard to be cavalier in this economy and say 'oh it's been around for so long they need to upgrade,'" Ms. Barzdukas told journalists in San Francisco.
RockMelt: Tech blogs are abuzz this morning with news of a new browser called RockMelt, which has the support of Netscape founder Marc Andreessen. That gives it a hefty bit of street cred in the tech community. Andreessen tells the New York Times that browsers are somewhat behind the times:
"There are all kinds of things that you would do differently if you are building a browser from scratch," Mr. Andreessen said.
RockMelt is rumored to work with Facebook, which is something the blog Mashable finds particularly interesting.
eBooks: Sony has announced that its e-readers soon will accept books published in an open format called ePub. GigaOm heralds the move as good for consumers. It stands in contrast to Amazon's apparent desire to keep its e-books on its Kindle reader,although there are worries Sony's format won't be completely open. More from GigaOm:
Amazon's e-book ambitions go beyond simply selling a lot of Kindle devices. Taking a page from Apple's iTunes playbook, its goal is to establish Kindle as the dominant e-book publishing and distribution platform. And as Apple has amply demonstrated, when you control the platform, you control the value chain, which means you reap a disproportionate share of the value that's exchanged.
Twitter: Time to give that left index finger a rest. If you're sick of typing "RT" in front of all those tweets you republish on your feed, then you'll like this news from Twitter's blog: The micro-blogging site is adding a "re-tweet" feature. Expect it to launch in a few weeks.
Posted by: John D. Sutter -- CNN.com writer/producer
Filed under: books • browsers • Microsoft Corp. • Twitter