These findings may disturb some of you hard-core social networkers: A market research firm says 40 percent of tweets are "pointless babble."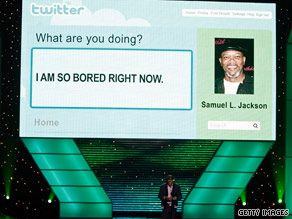 Pear Analytics analyzed random tweets over a two-week period and used that data to funnel the posts into six categories. More on the process:
So we took 2,000 tweets from the public timeline (in English and in the US) over a 2-week period from 11:00a to 5:00p (CST) and captured tweets in half-hour increments. Then we categorized them into 6 buckets:

News, Spam, Self-Promotion, Pointless Babble, Conversational and Pass-Along Value.
"Conversational" tweets came in second place and made up nearly 38 percent of the posts analyzed. Researchers say they went into the project thinking that Twitter was mostly used for self-promotion.
The firm concludes that, because of all of the babble, people who still want to use Twitter need some way to filter out irrelevant information. It seems like it's easier to me just to follow people who you trust and who you find interesting.  More from the report:
With the new face of Twitter, it will be interesting to see if they take a heavier role in news, or continue to be a source for people to share their current activities that have little to do with everyone else.  We will be conducting this same study every quarter to identify other trends in usage.

Since Twitter is still loaded with lots of babbling that not many of have time for, you should check out the Twitter filter, Philtro.  These guys can not only help you filter the noise, but will also be allowing you to store the tweets you are most interested in real soon.
Here's another report on the state of Twitter, visualized by Gizmodo. The blog has a nice chart of what Twitter would look like if there were only 100 Twitter users in the world (The blog got its data from an upcoming book, "Visualized, the Information Atlas," by David McCandless). Half are classified as "lazy," meaning they haven't posted in the last week. Only 5 percent of users have more than 100 followers, according to the analysis.
What do you all think? Is Twitter overrun with babble? I've sensed a lot of why-is-CNN-so-obsessed-with-Twitter? heat in the comments lately, so I'd love to know what you all think about this!
Posted by: John D. Sutter -- CNN.com writer/producer
Filed under: Twitter