Any baseball fan is familiar with MLB's frequent reminders not to rebroadcast a game without "the express written consent of Major League Baseball." But did you ever consider that your Facebook, Twitter or blog posts could be targeted by overzealous media regulations?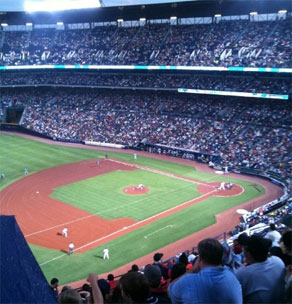 Can the SEC prohibit fans from sharing pictures similar to this iPhone shot of a Braves game I
posted to my Facebook profile?
Should they even bother trying?
According to current policy, Southeastern Conference (SEC) fans cannot "produce or disseminate (or aid in producing or disseminating) any material or information about the event, including, but not limited to, any account, description, picture, video, audio, reproduction or other information."
Adam Ostrow, of Mashable.com, translates that to mean "no Twitter, Facebook, YouTube, TwitPic, or any other service that could in any way compete with authorized media coverage of the event."
The SEC media-credential policy also states that violations may result in "ejection from the Event and prosecution for criminal trespass."
Conference spokesman Charles Bloom told the Charlotte Observer there are plans to loosen the restrictions, but the current policy forbids tweeting from the stands.
While speaking with CNN, Attorney Evan Brown questioned the legality of the SEC policy. Brown equates a ban on social media in state-sponsored schools to a violation of the First Amendment and a form of prior restraint.
Media-coverage rights to sporting events have always been expensive and, consequently, heavily policed (this year the U.S. Open banned all cameras and phones) but can social media possibly be restrained?
Could social media ever compete with authorized media coverage in a way that would threaten profits and rationalize SEC's media policy?
Bloggers Adam Ostrow, Evan Brown and Steve Raquel discussed the SEC policy today on CNN.com Live (Watch Video).

Update:
This afternoon the SEC released a revised version of its media policy (pdf). The revision provides exemptions for noncommercial updates and personal messages.
The new policy reads:
No Bearer may produce or disseminate in any form a "real-time" description or transmission of the Event (i) for commercial or business use, or (ii) in any manner that constitutes, or is intended to provide or is promoted or marketed as, a substitute for radio, television or video coverage of such Event. Personal messages and updates of scores or other brief descriptions of the competition throughout the Event are acceptable.
Posted by: Wes Finley-Price -- CNN.com Webmaster
Filed under: Facebook • Flickr • Internet • iPhone • online news • schools • Twitter