The Big Crunch may sound like a slogan for crackers or potato chips, but it's actually an astronomical theory with a gloomy twist.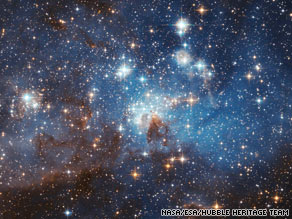 We've all heard of the Big Bang, a widely accepted theory that proposes the entire universe began from a single point about 13.7 billion years ago and has been expanding ever since.
But will it expand forever? Or could it stop and reverse that process?
One possible fate of the universe is the Big Crunch, the idea that the cosmos could one day begin contracting and eventually collapse back on itself or return to a single point.
If it ever happens, this anti-Big Bang would take place so far in the future that Earth might even not exist anymore, according to experts writing for Cornell University's Curious About Astronomy Web site.
But the experts also took a stab at what a contracting universe could look like to an observer billions of years into the future.
"As the present-day observable universe started to get really small, the observer would most likely see some of the things that happened in the early universe happen in reverse. Most notably, the temperature of the universe would eventually get so high that you could no longer have stable atoms, in which case the hypothetical observer wouldn't be able to hold himself together."
Yikes. But fear not. It turns the expansion of the universe has been accelerating rather than slowing.
Astronomers believe that's caused by a mysterious dark energy pulling galaxies apart, according to NASA.
"Dark energy is this idea that not only is the universe expanding, dark energy is actually making that expansion happen even faster," said Marla Geha, as assistant professor of astronomy at Yale University. "The dark energy will actually continue the expansion of the universe forever, so there probably will not be a Big Crunch if we have the numbers right."
But the continuous expansion would have other consequences. Over tens of billions of years, the galaxies that we see around us would get farther and farther away, making the universe more of a lonely place, Geha said.
Posted by: A. Pawlowski, CNN.com
Filed under: Astronomy • NASA • Space