Sony has officially confirmed rumors surrounding the PlayStation 3 game console. In a video posted on the PlayStation Blog SCEA President and CEO Jack Tretton announced a new slimmer PS3 will be available September 1st. In addition, all PS3 consoles got a $100 price cut today, dropping the cost to an enticing $299.
Engadget received an early look at the new PlayStation 3 Slim and provides a great hands-on gallery.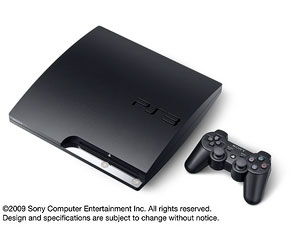 Price has always been an obstacle preventing the widespread adoption of the PS3. Just last week Ars Technica criticized the cost of the console:
In many cases, price is the most important factor, and while Blu-ray and wireless may be nice, they're not always enough to convince a parent or grandparent to spend $200 extra dollars in the store. Right now, price is everything, and no checklist will change that.

The secret? Just lower the damn price.
With hot titles such as God of War 3 and Final Fantasy XIII on the horizon and a $100 price cut, the PlayStation 3 may finally be a true competitor in the console wars.
Will a $299 feature-rich PS3 be able to dethrone the value-priced Nintendo Wii ($250) or challenge Microsoft's Xbox 360 Pro ($299)?
Posted by: Wes Finley-Price -- CNN.com Webmaster
Filed under: consumer tech • Games • Gaming • Microsoft Corp.