In today's video game universe, it isn't enough to get publicity at conventions and gaming sites. More publishers are seeking extra online buzz by creating special teaser Web sites that sell the backstory of the game instead of the game itself.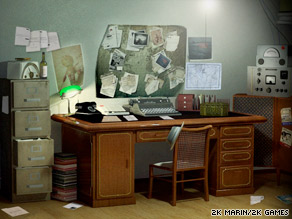 The teaser site for "Bioshock 2."
Two big upcoming games - "Bioshock 2" and "Batman: Arkham Asylum" - have creative teaser sites that offer some history behind the game's story. If you didn't already know they were associated with the video games you might not be able to tell, because the two sites don't specifically mention the games by name.
The "Bioshock 2" site, www.somethinginthesea.com, offers cryptic details about strange sightings in the ocean and children who've mysteriously gone missing. The home page depicts a 1960s-era office with metal filing cabinets, bulletin boards, radios and more; when the user clicks on certain objects, clues are revealed that offer glimpses into the game and explain how some of its characters were created.
By contrast, "Batman: Arkham Asylum" offers what looks like a stodgy Gotham City municipal Web site with links to city services, the mayor's office and paying utility bills. But when users click on the "Breaking News" headline about a fire at Blackgate prison that required its inmates to be transferred to Arkham Asylum, they discover such other tongue-in-cheek links as one for Arkham Care, which promises "even the most diseased mind can be cured." Eventually, users discover parts of the Joker's scheme to lure Batman to Arkham Asylum and trap him inside.
These sites don't give away anything important about the plots of the games and don't even mention the main characters. Instead, they offer pieces of a puzzle - pieces that on the surface don't seem to make sense but that create a sense of mystery and intrigue.
"Batman: Arkham Asylum" is due Aug. 25, while the release "Bioshock 2" has been delayed til the first half of next year.
A last-minute note on "Batman: Arkham Asylum": The developers say the PC version of the game will be delayed for three weeks, but don't despair. The game is being tweaked with NVIDIA® PhysX® technology, which will create more realistic objects and environments within the gameplay.
According to the NVIDIA website, your computer will need GeForce 8-series GPUs and later, with a minimum of 32 cores and a minimum of 256MB dedicated graphics memory, to play "Arkham Asylum." So check your specs before you invest in the game.
- Larry Frum
Filed under: video games