One question has been nagging at Twitter for years: How to make money?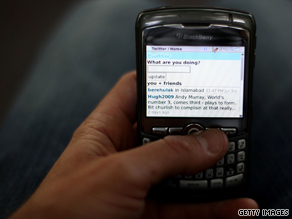 A piece of the answer to that question was revealed this week as Twitter co-founder Biz Stone told VentureBeat that Twitter plans to start charging for a premium service.
"Twitter will still be free for everybody and we'll still tell them to go crazy with it," Stone told the blog. "But we've identified a selection of things that businesses say are helping to make them more profit."
As of now, the popular micro-blogging site doesn't charge for its service. It also doesn't run ads.
Some of the services the company reportedly will charge for:
Site analytics, which tell businesses about how people are using their Twitter feeds
A "commercial layer" for the social network to be rolled out this year, VB says
Certified accounts, so you can know for sure a person or company is who they say they are
There aren't many details about the services available. The interview comes on the heels of the release of a Twitter 101 business guide. And it's another indication Twitter is catering to the business crowd (read: people with money).
But what do you all think? Would you pay for extra Twitter services? Do you use Twitter for business? Feel free to discuss in the comments below.
Posted by: John D. Sutter -- CNN.com writer/producer
Filed under: Twitter